As I write Louisiana-based ghost stories, I do a lot of research and I visit cities and towns often. I've seen many of the beautiful mansions on the River Road and around Lafayette and New Iberia, and I've stayed in haunted houses.
South Louisiana has centuries of colorful and sometimes dark history. New Orleans is the most unique city in America, and the French Quarter is at the same time beautiful and ghostly.
I visited several times while working on Die Again, walking the streets of the Quarter with a sheaf filled with notes and stories. I was looking for truly haunted buildings and homes, and my search was fruitful beyond imagination. There are literally dozens of spots that are well-known sites of paranormal activity.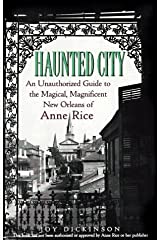 While browsing in a dusty second-hand bookstore, I found a book called Haunted City:  An Unauthorized Guide to the Magical, Magnificent New Orleans of Anne Rice by Joy Dickinson. I've never been a fan of vampires, and so I've never read one of Rice's books. That said, Haunted City is a must for those who love the supernatural, Anne Rice fans or not. I bought the book for background and insight into the haunted places of New Orleans, and that's exactly what I got.
Dickinson wrote the book in 1995 (it's been revised and updated since). It's filled with fascinating tales and histories not only of places in Anne Rice's novels, but also many others that aren't. The book I bought is twenty-five years old, but except for some understandably outdated hotel and restaurant recommendations, even this early edition is as timely as today. That's because when you're describing buildings built in the eighteenth and nineteenth centuries, the history and folklore don't change much.
Anne Rice is a New Orleans native and lives there in a house featured in her novels. Her characters roam (and fly over) the old streets, cemeteries and mansions. Rice fans will be enthralled to learn how many of the spooky venues in her books actually exist…and really are haunted.
Take this book with you on a walking tour of the Quarter. It's full of places, pictures and even addresses to help you find everything. The author does a wonderful job explaining the legends and history of the most popular "ghostly" sites in the French Quarter, the Uptown district and even the stately antebellum plantation homes outside of town.
If you love New Orleans as I do, I think you'll enjoy this book. And be careful — you may become an Anne Rice fan. It happened to me; I'm reading The Witching Hour, and I've downloaded the movie Interview with the Vampire, starring Brad Pitt and Tom Cruise.