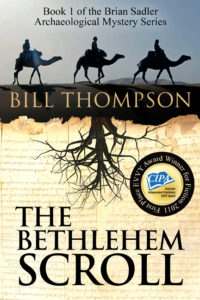 It looked as though stockbroker and amateur archaeologist Brian Sadler had hit the jackpot when he joined Warren Taylor & Currant, Dallas' hottest investment brokerage firm. Then the FBI arrived to investigate the company's ties to the Mob, and Brian had to find a way out. In his last deal at the firm, he raised millions of dollars for Bijan Rarities, a New York dealer in antiquities, then joined the gallery himself.
Bijan Rarities' upcoming auction of the sarcophagus of Inkharaton, a pharaoh whose tomb was discovered in 2005, was making headlines worldwide. This amazing tomb was the first intact burial site ever found in Egypt's Valley of the Kings, and held a unique surprise for those who unearthed it.
The auction was televised worldwide and catapulted the gallery to new heights as Bijan's name became a household word in the rarities field.
In a bizarre turn of events, Brian finds himself owning the gallery and searching for a scroll, written by a young boy, that would put Brian on the map as one of the world's top dealers in antiquities. Knowing he has to raise millions of dollars to buy the artifacts, he finds a solution in a plan outlined by mob boss John Spedino.
If you deal with the Mafia, things have to go exactly right. When events begin to unravel, Brian Sadler could lose his gallery … and his life.
Jetting from Dallas to New York and London, Egypt's Valley of the Kings and the French Riviera, this fast moving archaeological adventure will keep you turning pages to learn the outcome of the world's most important document, The Bethlehem Scroll.
The Bethlehem Scroll by Bill Thompson reveals not only a riveting tale, but a new author with the "goods" to join seasoned writers and entertain readers who expect to be surprised. Thompson delivers in this, his first effort, to give us characters with flaws that make us pause and examine our own values. Fast paced modern day action entwined with a biblically historic foundation provides for suspense and an ending that won't disappoint. – Jill Byrne, Amazon Reviewer

---
Writing like a seasoned pro, Bill Thompson's first publish is a delightful dish full of mystery and intrigue. The book follows Brian Sadler as he rises through the ranks of the investment brokerage business only to find that his other abilities may offer the answer to finding the salvation of his body and soul. If you are looking for a fast paced drama with an unexpected finish, this is your next best read. – Beverly, Amazon Reviewer

---

I read the entire book over a period of two days and felt intruded upon when I had to set it aside to eat/sleep/answer the phone/etc… The ending left me stunned at 2:30 in the morning and wanting to awaken my husband to share the experiences.

I realized I had a neglected glass of Malbec sitting on the night stand; so I just sipped in silence and replayed the complex, thrilling and mysterious adventure on which the author had taken me. Even after the jet lag has cleared I still mentally escaped to revisit the intriguing places in Egypt, London, New York and the French Riveria to replay the vivid images Thompson so artfully etched in my minds eye.

As with all masterpieces, the reader will be educated. This time in archeology, antiquities dealing, investment brokering and Egyptology as Brian searches for his most important yet dangerous artifact while evading, yet being seduced by the the mob.

The characters will become real as you experience their high profile roller coaster rides along with their sultry private lives. – Claire, Amazon Reviewer