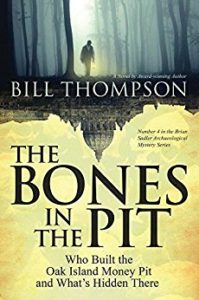 The fourth book in the Brian Sadler Archaelogical Mystery series was eagerly awaited by fans who've come to love the former stockbroker, Fifth Avenue gallery owner and amateur archaeologist.  Author Bill Thompson's first book in the Brian Sadler mystery series, The Bethlehem Scroll, won a first-place EVVY award for fiction.  This book continues the adventures of Brian Sadler, this time solving the Mystery of Oak Island.
For over two hundred years people have wondered what was hidden in the Money Pit, an incredibly well constructed shaft on Oak Island, Nova Scotia. Millions of dollars and a few lives have been lost as people tried to find the secret.
In the Vatican a ruthless Cardinal will do anything to obtain an ancient manuscript.
A deadly explosion sets the FBI, the President and amateur archaeologist Brian Sadler on the trail of the book whose coded pages could reveal what has been hidden beneath Oak Island for a thousand years.