For many years, green bean bundles have been a part of our Thanksgiving and Christmas dinners. Everybody loves them, they're individually wrapped so people can take as many as they want (plan for several per person!), and they are super-easy to make. Here's hoping your family will like them too!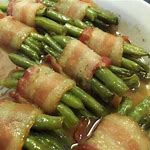 For 6-8 portions, you'll need:
3 14.5 oz. cans of whole green beans, drained
1 pound bacon (long strips, NOT center-cut). Cut strips in half
½ cup butter, melted
1 cup brown sugar
1 teaspoon garlic salt
Soy sauce to taste
Preheat oven to 350 degrees. Grease a 9×13" baking pan.
Wrap 7-8 green beans with bacon and place in prepared dish. Repeat, using all the green beans and bacon. Stuff them in tight if necessary – they'll cook just fine.
Combine butter with brown sugar, pour over bundles and sprinkle with garlic salt and soy sauce.
Cover with foil and bake for 45 minutes. Serve piping hot and watch your guests enjoy these great little bundles!